Geneva, June 30, 2020 – Building on 15 years of track record in collecting and reporting data on the financial and social performance of Microfinance Investment Vehicles (MIVs), Symbiotics is broadening its fund research expertise with a new survey on Private Asset Impact Funds (PAIF Survey). Targeted at impact fund managers with a bias in managing private assets in emerging and frontier markets, this inaugural survey will offer comprehensive benchmarks for fund managers and asset owners alike to position their impact investment activities against industry-level trends.
Roland Dominicé, CEO of Symbiotics, commented: "In the last two decades, we have seen an increase in investor appetite for fund products that go beyond microfinance, into sectors like climate & energy, food & agriculture, SME finance, or affordable housing. Today, more than 200 impact fund managers venture into these territories. By soliciting them to share their data, our independent research team will put together new benchmarks while ensuring data continuity on MIVs."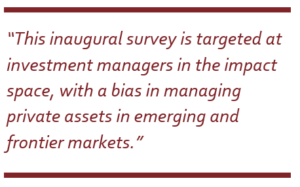 The coverage for the first PAIF Survey under the Symbiotics banner will track indicators on PAIFs' size and growth, balance sheet structure, debt & equity investment instruments, geography of investments, investee types, investment terms, risks, fees & costs, investor composition, financial performance, and impact performance.
The research team will get in touch with identified managers for the survey launch in early July 2020. The data collection and processing will take place during the months of July to September 2020 while the final report and benchmarks are planned for release in early fall.
*******
About Symbiotics Research
Symbiotics has been driving market intelligence since company inception in 2004. We have a fully independent team dedicated to Market Research, playing a key role in gathering, analyzing and disseminating market information targeted at fund managers, investors, practitioners and academics active in the impact space. The research team produces fund-level surveys, independent market publications and maintains in-house indices that serve as reference benchmarks for the industry.
symbioticsgroup.com
*******
For more information, contact:
Samy Derradji, Symbiotics, Corporate Communication Manager
samy.derradji@symbioticsgroup.com
Ramkumar Narayanan, Symbiotics, Research Manager
ramkumar.narayanan@symbioticsgroup.com