Symbiotics Investments has arranged a USD 10 million gender-focused bond for Khan Bank, a commercial bank in Mongolia, via the Vision Microfinance DUAL Return Fund.
With the issuance of this gender-focused bond, Khan Bank reiterates its commitment to the United Nations Sustainable Development Goals "SDGs", in particularly SDG 5: Gender Equality. To this end, Khan Bank has launched new loan products that are specifically aimed to support productivity, competitiveness and financial access of women entrepreneur clients.
The issuance of this gender-focused bond represents a significant milestone in the financial industry's commitment to addressing gender disparities and fostering inclusivity, as it is the first bond in Mongolia with the explicit purpose of supporting the SDGs through a gender lens.
The bond focuses on employment generation and financing programs designed to prevent and alleviate unemployment stemming from socioeconomic crises. It will benefit female borrowers and female-owned or female managed SMEs. Through this financial instrument, Khan Bank aims to mobilize the proceeds towards addressing gender-related challenges. The bond issuance will not only provide a unique investment opportunity, but also generate social impact, creating lasting change that benefits communities and economies.
"Vision Microfinance is proud to celebrate its 15 years Mongolia investment history with this gender-focused bond in cooperation with Symbiotics Investments and Khan Bank, which shows the innovation made possible by long term partnerships and our commitment to impact investing in Mongolia since 2008.", said Christoph Eckart, Senior Fund Manager at Impact Asset Management.
"Building on the momentum of the first gender-focused bond issued in 2022, we are very pleased to work with our long-term partner Khan Bank and enable them to work towards closing the gender gap among their clients and in a wider sense, for the entire female population of Mongolia.", said Eugene Tan, Symbiotics Regional Manager East Asia.
"We are delighted to extend our co-operation with our long-term partner institution Symbiotics through this transaction which focuses on promoting sustainable development in the country. This issuance of the gender-focused bond demonstrates our unwavering dedication to social progress. By focusing on gender-related issues, we aim to create opportunities for a more equitable and prosperous future.", said Erdenedelger Bavlai, First Deputy CEO of Khan Bank.
The following SDG is promoted with this bond: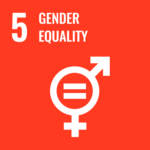 This gender-focused bond is issued via Symbiotics sponsored bond issuance platform (Micro, Small & Medium Enterprises Bonds S.A.) under its Sustainable Bond Framework, which was certified in December 2019 and November 2021 by DNV GL. The bond is listed on the Securities Official List of the Luxembourg Stock Exchange and displayed with the gender-focused bond flag on Luxembourg Green Exchange.
Link to: Sustainable Bond Framework for Symbiotics
*******
About Symbiotics Investments
Symbiotics is the leading market access platform for impact investing, dedicated to private markets in emerging and frontier economies. The group offers investment, asset management and capacity building services. Since 2005, Symbiotics Investments has originated over 7,300 investments representing more than USD 9.2 billion for 570 companies in 95 countries. symbioticsgroup.com
About Impact Asset Management
Impact Asset Management GmbH is a leading independent asset management company in the German speaking region, which is specialized in asset allocation, analysis and management of impact and sustainable investments. The aim of all products is continuous capital growth but with a focus on security and risk minimization. In rising markets the focus is on performance optimization. In falling markets the focus is on active risk management in order to protect the consigned assets from heavy losses. The business focus is on institutional clients and high net worth individuals. Our goal is to increase our customer base in close collaboration with banks, online businesses and distributors and to expand into new markets in the coming years. impact-am.eu
About Khan Bank
Khan Bank has been providing all types of banking products and services to more than 82 percent of the population, or 2.8 million customers, through its digital channels and 545 branches nationwide. Khan Bank supports MSMEs, which are the key drivers of the country's economic growth, by offering business loan products and non-financial services such as customer training and advisory and consulting services through its Business Support Center. In the last decade, Khan Bank has been actively implementing projects in line with sustainable development initiatives, aiming to be greener and offering environmentally-responsible products and services. Click here to read Khan Bank's Sustainable Development Report 2021. khanbank.com
*******
For more information, contact:
Samy Derradji, Head of Corporate Communication, Symbiotics
samy.derradji@symbioticsgroup.com
Florian Mende, Sales Manager Germany, Impact Asset Management
f.mende@impact-am.eu
D. Tungalagtamir (Tungaa), Head of Marketing & Public Relations Department, Khan Bank
prmedia@khanbank.com