Symbiotics Investments is delighted to partner with Agricover, a major player in the Romanian agribusiness, whose integrated business model combines synergies between small and medium sized agri-business, agri-finance and agri-technology segments. Its mission is to increase farming productivity in the country by supplying the latest sustainable agricultural technologies and financing solutions.
With the issuance of this bond, Agricover reinforces its long-term commitment to sustainable development in Romania, catering to the financing needs of smallholder farmers. It also showcases its ability to align with the internationally accepted International Capital Market Association Social Bond Principles "ICMA SBP", increasing the attraction of international financiers.
"Symbiotics Investments is proud to support Agricover's deeply rooted social mission of promoting sustainable finance, by providing Romanian farmers with access to agri-inputs, financing, and the latest technology. With this issuance, Symbiotics Investments is contributing to the food security and sustainable food system in Romania. Furthermore, through the potential effect of the provision of microloans and Small and Medium Enterprises loans to smallholder farmers, Symbiotics Investments is also contributing to employment generation in the country.", said Katerina Ermidou, Symbiotics Investments Regional Manager for Eastern Europe.
"We are delighted to partner with Symbiotics Investments to further sustain the development of small and medium sized farmers by offering tailored products that secure the working capital and investments needed for sustainable productivity growth. Attracting a partner of Symbiotics Investments' stature gives us confidence that our commitment to increasing agricultural productivity will help define the future of sustainable and high-performing Romanian agriculture.", said Serhan Hacisuleyman, General Manager Agricover Credit IFN.
SDG 2: Zero Hunger is promoted with this bond issuance: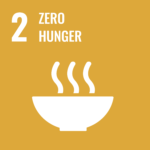 This Social Bond is issued via Symbiotics sponsored bond issuance platform (Micro, Small & Medium Enterprises Bonds S.A.) under its Sustainable Bond Framework, which was certified in December 2019 and November 2021 by DNV GL. The bond is listed on the Securities Official List of the Luxembourg Stock Exchange and displayed on the Luxembourg Green Exchange, in the Social Bond section.
Link to: Sustainable Bond Framework for Symbiotics
*******
About Symbiotics Investments
Symbiotics is the leading market access platform for impact investing, dedicated to private markets in emerging and frontier economies. The group offers investment, asset management and capacity building services. Since 2005, Symbiotics Investments has originated over 7,100 investments representing more than USD 7.5 billion for 541 companies in 94 countries. symbioticsgroup.com
About Agricover
Agricover is a major player in the Romanian agribusiness, a generator of innovative solutions that transform agriculture and farmers' lives on the long term, creating progress and prosperity at social scale. In its more than 20 years of activity, Agricover Group has been committed to serving Romanian farmers and providing them with innovative solutions tailored to their real needs, so that they can sustainably enhance their productivity through access to state of the art agricultural inputs and technologies, financing solutions tailored to the specific agricultural sector and digital agriculture services. agricover.ro
*******
For more information, contact:
Samy Derradji, Corporate Communication Manager, Symbiotics
samy.derradji@symbioticsgroup.com
Ioana Botea, Corporate Communication & PR Manager, Agricover
ioana.botea@agricover.ro